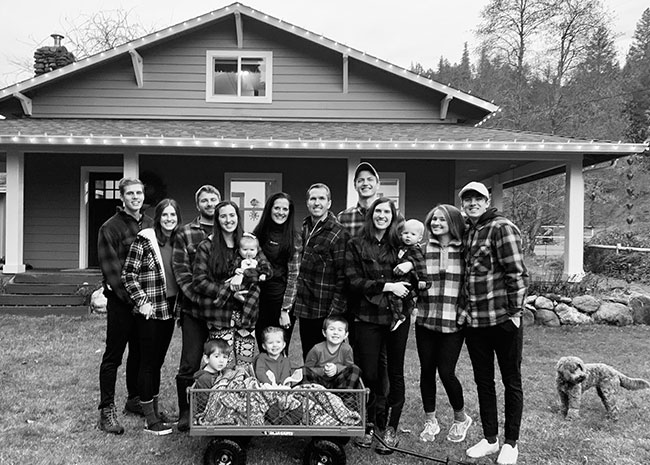 Why Orthodontics?
Smiles are more powerful than you think. A smile is an expression of happiness, confidence, and encouragement. Scientific studies even suggest that the simple act of smiling can have positive psychological benefits.
But for those who feel self-conscious about their teeth, offering an authentic smile is a challenge.
How your smile looks and how you feel about it can have a significant impact on your self-worth and overall happiness.
That is one of the main reasons I chose to go into orthodontics: when I help someone create a smile that they are happy with and confident about, it changes their life!
Each day I have the opportunity to establish and strengthen connections with people, while helping each improve their health and confidence.
I love that orthodontics is all about smiles, that my job is to spread joy and make people happier! I'm excited you're considering treatment and look forward to the relationship we'll grow as you transform your smile!
A Love for Helping Others
I love being a part of the process of helping someone who doesn't like their smile, who avoids smiling, finally be confident in themselves.
I find it so rewarding to help a child who is suffering from an overcrowded, painful bite feel more comfortable and confident through orthodontic treatment.
I love being part of the journey with a teenager who won't smile at our initial appointment because they are embarrassed about their teeth and them giving me a wonderfully beautiful smile the day we take the braces off.
And I love hearing adult patients tell me they can chew with teeth they have never been able to chew with before and that they are overjoyed to finally have a smile they love.
These journeys with my patients are the most gratifying part of my work, and what I look forward to doing every day!
Education and Experience
I have practiced orthodontics for 25 years. My undergraduate studies were at Brigham Young University and dental school, at Oregon Health Sciences University, resulted in my Doctorate of Dental Medicine (DMD). I then completed a rigorous orthodontic residency at Saint Louis University, obtaining my Master of Science (MS) in Orthodontics.
I chose to become an orthodontist because orthodontic treatment is so much more than straightening teeth. Orthodontics is an opportunity to create relationships and build friendships with people of all ages whom I would otherwise not encounter.
When my kids were teenagers, they always complained about going shopping with me. Why? Because I would inevitably run into a patient or two while we were out and I'd stop and talk with them for a while!
I absolutely love having a job where I meet a variety of wonderful, interesting people, and love practicing in a close-knit community where we see one another outside the office. Working as an orthodontist, I've been able to see little kids grow up and become adults. I've been able to gain lifelong friendships with people whom I first met as patients. And I've seen, time and again, the impact that fixed teeth can have on a person's health and confidence.
Working with my patients, and creating and nurturing honest relationships, is what keeps me most excited to come to the office each day!
Constant Learning, Professional Affiliations, and Activities
I am always looking to continue my education, improve my office, and keep current on innovations.
Orthodontics is a specialty that involves a lot of fast-moving technology and an ever-deepening understanding of science and engineering. I am constantly working to make sure I am not just up-to-date, but leading the pack on making changes in new ways to achieve a beautiful smile.
As I work to stay current with the latest discoveries and innovations, I can shorten treatment time, offer more options, and better serve my patients. I commit to constantly striving to provide my patients with the best orthodontic experience they can have and a smile they truly love.
I am one of the few orthodontists in Southern Oregon who is Board Certified by the American Board of Orthodontics. I am also affiliated with the:
American Association of Orthodontists
World Federation of Orthodontists
American Dental Association
SureSmile® Clinical Advisory Board
Additionally, I am the past president of the Southern Oregon Dental Society and past president of the Children's Dental Clinic, which provides free dental care for the working poor. I also helped organize the Medford Mission of Mercy, which provided two days of free dental care to more than a thousand community members in need.
Beyond the Office
I grew up in Provo, Utah, and have called Medford my home now for 25 years. I am married to the beautiful and vivacious Kristi and we have five children:
Mary is married to Michael Stallings and has three kids, Ben, Jamee, and Ruth
Sarah is married to Chris Keenan, graduated from BYU with a degree in English, and has two kids, Camilla and George
Rachel is married to Clayton Grundvig and working in Charlottesville, VA, after recently graduating BYU
And Emma and Luke are both at BYU and both are basketball junkies, to my great joy!
Of course, I would be remiss to not mention Lulu and Kora, our two labradoodles.
Being with my family is the best way I can think of to spend my time! I love visiting my kids (we have a kid in each time zone in the US right now) and reading and telling stories to my grandchildren over FaceTime. I also like playing basketball, running, camping, skiing, and gardening. I love playing the piano, too, along with singing and writing music.
Giving Back
In addition to volunteer dental services, I am also active in the Boy Scouts. I have been a scoutmaster, assistant scoutmaster, district chairman, and am currently a cub master. I also work with young adults at my church and preside over the weekly Sunday meetings. It's wonderful to be able to teach and work with young adults, as they transition from being teenagers to adults.
Serving gives my life meaning: it offers opportunities to improve the lives of my neighbors and friends, and to strengthen our community for all.
One Final Note
Being an orthodontist is truly a blessing.
Being able to interact with so many different people helps me be really connected to my community and broadens my understanding of the world. Seeing the difference I can make in people's lives drives me to constantly improve and help more people have a smile they love.
I love that orthodontics is all about smiles: it feels like my job is to spread joy and make people happier. I feel like the luckiest man on earth!